SLB GROUP invests in knowledge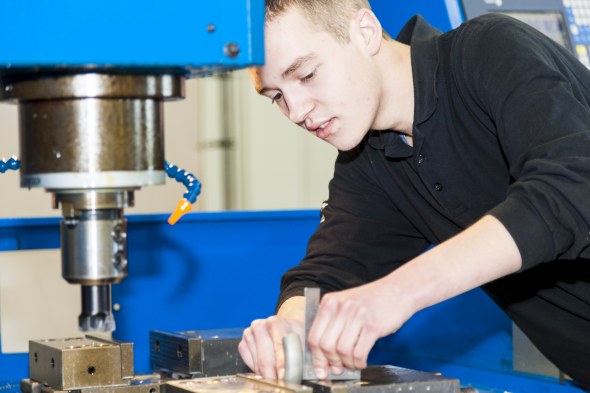 Technology is continually evolving. Investing in knowledge is therefore of crucial importance when it comes to keeping up with the latest developments in this ever-changing world. At SLB GROUP, we encourage our employees to continue their education. This provides added value for the organisation as well as for the employees themselves.
SLB GROUP, the parent company of RVS NON FERRO, RIJKERS Procestechnologie and SLB HIGHTECH, has been collaborating with the Stichting Metaal Opleiding (SOM) for many years. This is a partnership between about eighty companies in the metal industry, within the Oss-Uden-Veghel region, that aims to interest young talent in working in the metal industry, for example by offering them the opportunity to gain practical experience.
Studying and practical experience
Many students from ROC De Leijgraaf learned the tricks of the technical trade at SLB GROUP via SOM. One student, Björn van der Heijden, currently works there. Under the guidance of his coach Henk Kniest, Björn works at SLB Producting while attending the Mechatronics Engineering Apprenticeship Training programme level 3 at ROC de Leijgraaf, among other things. "I really like being able to study and gain practical experience at the same time. And, of course, the salary is also great. A ten-week internship would have been too short to learn everything about mechatronics. This system is ideal", he says.
Great balance
SLB GROUP offers many opportunities not only at the intermediate vocational education level, but also at the higher level. Tim Henger works at the assembly department at SLB Production, and he attends a higher vocational education programme in mechanical engineering two evenings a week. "I don't like to sit all day; I prefer being active. This combination of work and school is great for me. I went to a grammar school for a while, but I missed being challenged and I missed the combination of learning and working." Tim would like to work as an engineer with SLB GROUP eventually. "Using my knowledge and experience in craftsmanship would be a great challenge for me." He hopes to graduate in 2020. In addition to using his training in practice, he also wants to use his skills for his hobby: refurbishing his home. Some of the improvements he is planning include a climate control system that doesn't use energy, and good insulation for improved sustainability.
Possibilities
SLB GROUP recommends everyone try the combination of learning and practical work experience. "It is the perfect way to invest in your future", says Egbèr Smits, Director at SLB GROUP. In January he attended an inspirational evening event on following university-level education while simultaneously holding a job, organised by Rotary Meierijstad. Professors from four leading universities talked about innovation, the digital transition, and the food and agribusiness of the future. The latter subject in particular was of great interest to SLB GROUP. "We are always looking for opportunities for our employees to combine their work with education. I myself frequently attend seminars on various subjects, and I would also like to attend university lectures", says Egbèr.