RIJKERS supplies fully automatic process system to Filoform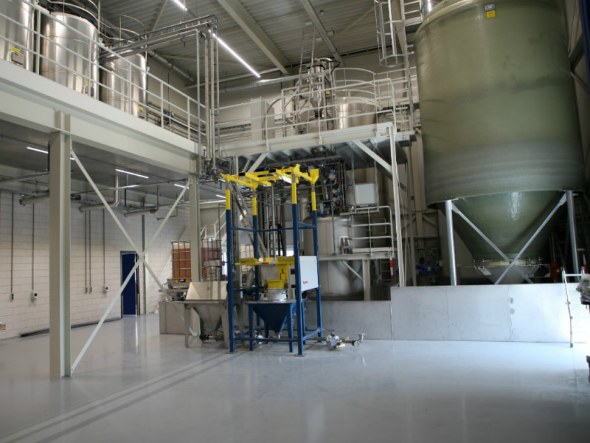 Filoform, based in Geldermalsen, in the Dutch province of Gelderland, has opened a modern commercial unit featuring the latest technology in the field of sustainability, and a state-of-the-art production and R&D facility. In the preparatory phase, the team from RIJKERS was engaged for one of our specialisms: engineering the complete process installation, including pipework and controls, and delivering it in a turnkey state. Our proactive approach and far-reaching attitude to partnering really make the difference for our clients.
For Filoform, the design and construction of the new synthetic resin production line represents a major step in growth, from manually mixing and dosing to a fully automatic installation and a fivefold increase in batch sizes. We were contracted for this project due to our dependability, expertise and solution-oriented way of working, as well as for our extensive experience in handling different types of clay and PMDI hardeners. In the preparatory phase, we convinced Filoform by sharing our active information and know-how. Not just by simply meeting the client's demands, but also by reflecting the underlying motivation. This included recommending a suction transport system instead of augur transport. The problems that Filoform suffered with dust are now a thing of the past. We also placed an extra drier in the filler pipe to remove surplus moisture from the product.
A single uniform mixer process
Another complex challenge that Filoform gave us related to transporting and weighing of the very light powder Aerosil. In contrast to other parties, we managed to create a sensitive weighing system with a dosing accuracy of between 0.1 and 0.5 kilograms, while the product has a bulk weight of 70 kg/m³. But that had to be achieved in a weighing system that also has to weigh product that is ten times heavier. Filoform was positively surprised by this result and will successfully expand its product range as a result. Via a single uniform mixing process, Filoform now produces different recipes with totally different properties in terms of composition and viscosity.
Smooth process
Filoform produces different types of synthetic resin for perfectly sealing and insulating cable joints for cable, fibre-optic and utility grids. In the mixer department, the new production line is already running at full speed and the first experiences are positive. "We have of course had a couple of minor malfunctions, but they have now been solved", explained CEO Alexander van Citters. "You see that things often turn out differently in practice than expected. In any case, the cooperation went very smoothly and in a pleasant atmosphere. It is becoming increasingly clear to us that the RIJKERS experts complement our wishes well. It's no accident that RIJKERS is already busy with the next project. That involves integrating parts of the old line into the new production environment. This will make us even more flexible in the production of recipes that meet our requirements."
Interested in all the jobs we have carried out for Filoform and the special properties of this fully automatic process system? Then read about it in this elaborate case.