Expansion of SLB GROUP's executive board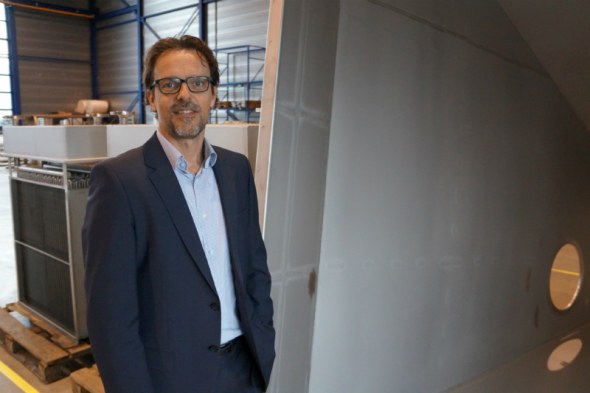 The SLB GROUP, the parent company of RVS NON FERRO, RIJKERS and SLB HIGHTECH, has recruited a new operational director. From now on, René van der Putten (48) from Deurne will form the organisation's executive board together with general director and owner Egbèr Smits. This expansion is a major step in the realisation of our lofty growth ambitions: doubling our revenue and results by 2020.
Over the course of his career, René van der Putten has worked in a variety of management and executive positions, often with an international nature. At Vanderlande Industries, for example, he had a span of control of 150 people all over the world. He also worked at e.g. Te Strake and NTS-Group. For the latter, he set up a new subsidiary in Shanghai. René van der Putten studied econometrics at Tilburg University and earned his degree in 1991.
People manager
With René van der Putten, the SLB GROUP from Uden has acquired a real "people manager." "Implementing structure, putting the right people in the right positions and making optimal use of their competences: that is where my strengths lie," he says. "I translate vision into strategy and prefer to operate on the cutting edge of operation and commerce. In a technical sense, there is plenty left to learn, but we have an abundance of knowledge and expertise here. It is up to me to realise our ambitious goals for the year 2020." He deliberately chose to work for a smaller organisation. "The span of control is not an ambition in and of itself for me. I focus more on the complexity of the tasks and the final responsibility I will have in a position. Those are the aspects that appeal to me most, as does the professional nature of this organisation. I was truly surprised by how well organised everything is here."
Growth ambitions for 2020
General director Egbèr Smits was looking for a director who is not afraid to make decisions and who adopts a human approach to leadership. "René fits this profile perfectly," he states. "His analytical skills and his coaching leadership were the deciding factors for me." Smits has witnessed the scope of the organisation's projects gradually increase over the past years. "There is a good reason why we have around fifteen people working on project management, engineering and work preparation. Our clients put more and more responsibility in our hands. As a result, thorough project management and process control are becoming increasingly important. Growth is the perfect way to meet this need. Now that René has joined our ranks, we are ready to go."
Independent business units
There is a clear strategy that drives these ambitions. The SLB GROUP's subsidiaries – RVS NON FERRO, RIJKERS and SLB HIGHTECH – will become independent business units. They work with a single shared production unit. Each business unit has its own area of expertise. One unit focuses on machine and frame development for machine producers, particularly in the food-processing and pharmaceutical industries. Another business unit focuses on the design, development and maintenance of installations for end users in the food industry. The third business unit processes high-grade metals into custom products for critical industries. Finally, the production unit is responsible for production, assembly, installation and commissioning.